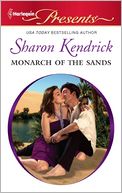 Monarch of the Sands literally took my breath away. It was such a fantastic and romantic love story by the fabulous Sharon Kendrick.
Zahid Al Hakam was now sheikh of his country due to the death of his uncle and cousin. He was in England for a series of meetings. So he stopped by to see his childhood friend Frankie O'Hara. His father and Frankie's father had not only been close friends, her father discovered oil in his country and you can well imagine how that improved their economy. Frankie's father was considered a hero. However, it had been years since Zahid had seen her and when her father had died he couldn't attend the funeral, so he sent his brother. But now the young woman standing before him was someone he didn't know, she was lovely, no, she was beautiful and she was engaged to be married.
After questioning her, he found out that her fiance, Simon had come to her home when her father had passed. A home sat on a lot of acreage, worth a fortune. He had even gone so far as to offer her a job. He also found out that her fiance, Simon had told her she was drab and so Frankie had a make-over. New clothes, hair, make-up and contacts. The red flags went up when he was told they were selling her family home. To learn more, Zahid insisted on taking them both to dinner. It was a disaster, and in the end Zahid "called" Simon out, she broke off the engagement and was so emotional because now she didn't have a job. On top of everything, Zahid didn't know how to respond to this new Frankie who had grown into a very beautiful and desirable woman because she definitely appealed to him physically. Resisting her was going to be hard.
Frankie had loved and adored Zahid from the time she was a child. As a teenager, she not only loved him she fantasized about him. He affected her in ways her own fiance didn't, It troubled her because she was so in-experienced. Shee was also furious with Zahid because he had Simon investigated and found out he had another woman. She was embarrassed, no job and wanted to leave her home. So what did Zahid do........he created a job for her and took her home to Khayarzah. Sounded a little fishy to me, because deep down I just knew he wanted her for himself. He had ended his affair with a Russian model so he had no one in his life at the moment......dangerous!
When they arrived in his country, all sorts of things changed. Frankie worked on his father's diary. Zadiq was challenged to keep his distance and she couldn't believe how archaic their customs were. Resisting Frankie or Francesca as Zahid called her, was torture. Of course, in the end with all of the sexual tension arching between them, they entered into a very secret affair. And then when he realized it couldn't continue and he would have to choose a proper wife and/or wives, it ended brutally.
The ending chapters were hard to read and that's because author Sharon Kendrick always builds up the emotion, in such a powerful way and then it comes crashing down. Adding to this particular romance, due to his country and the people, they would never accept a western woman as their queen, even though her father had been their hero. Heart broken, Frankie returned home and Zahid was miserable and in bad temper.
Monarch of the Sands was such an interesting and spectacular love story. I couldn't see how they would get their happy ending. So how would Sharon Kendrick tie this all up? I'm definitely not telling, you'll just have to trust me with patience and their love, they would both make their relationship work.
Back Blurb:
An impossible love affair – with a sheikh!
Francesca is shocked when family friend Zahid Al Hakam turns up on her doorstep. After all, he's now the Sheikh of Khayarzah – England's surburbia is hardly his regular stomping ground! But he is as achingly gorgeous as ever…and she's certainly tempted by his invitation to come to the desert and work for him.
Zahid finds the geeky, gauche teenager he once knew is now an understated beauty. Embarking on a secret affair is bittersweet – but, however all-consuming their passion, Zahid's duty to his kingdom must surely come first?